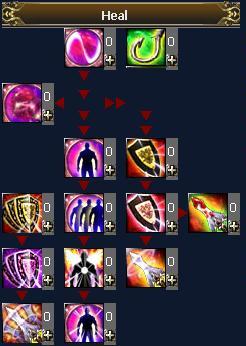 Healing skills allow a segnale to heal themselves or other party members, increase the abilities of themselves or other party members (see Buffing) and ressurect dead party members. A typical skill would be Wound Healing, a basic single target heal.
Healing Skills
Edit
These are the skills that will recover the target's health or resurect the target.

Healing Mastery: This skill improves your mana regeneration.

Self Heal: A very cheap heal, can target only yourself. You don't need to target yourself.

Wound Healing: The basic single target healing skill.

Hyper Heal: The party-wide healing skill. It heals up to 4250 hp at Rank 10. Only people in range will be healed.

Fast Healing: The heal over time skill, it apply a first direct heal, and then goes on healing the target for 90 seconds.

Recover: The only resurrect skill in the game. Once you resurrected you get a resurrection sickness that diminishes your HP, phtsucal and magick attack, as you put more points into this skill the sickness will reduce the penality.
Buff Skills
Edit
These are the skills that buffs (positive status) one or many (in a given area) target(s).

Great Guard:

Rising Guard:

Divine Shield:

Magic Shield:

Amazing Attack:

Increase Attack:

Dark Circle:
The non specific one
Edit

Fishing Mastery: