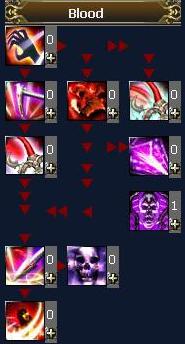 A segnale uses skills in the blood mastery to attack foes. Skills include things such as Blood Hit, in which a segnale attacks multiple times quickly with a whip. Every attack does Physical or Curse damage.
Blood Mastery: Increases HP recovery rate slightly. (It is not worth upgrading)

Death Scythe: Creates a scythe to attack the enemy once and stun afterwards.
Backdraft: One hit curse attack.

Blood Hit: The enemy gets attacked multiple times. The higher the level of Blood Hit, the more it hits. One of the Segnale's basic skills.

Vampire: Attacks the enemy once and recovers HP afterwards.

Dread Nail: A 3-Hit attack with slight AoE damage
Ruins Skull: Basic Segnale skill.

Evil Spear: Summons a spear out of the Blood Whip and does 2 AoE attacks.

Curse Field: One of the main skills of Segnales. Creates a huge black field that causes AoE damage for 8 seconds.

Evil Crow: Main skill. The Segnale becomes a creature and attacks 6 times. The first and the last hit do small and little AoE damage.
Spirit Emission: 2-Hit AoE that inflicts curse damage.
Rise Pierce: 3-Hit AoE that causes bleeding damage to the enemy.